Awards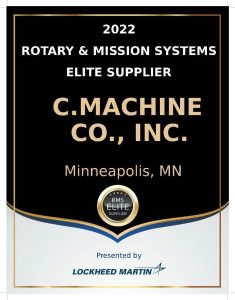 C Machine Co Inc was awarded with Lockheed Martin (LM) Rotary and Mission Systems (RMS) Elite status for 2022 performance. In 2022, C Machine Co., Inc demonstrated excellent quality and delivery performance and an outstanding customer-focus approach.
C Machine was selected among Lockheed Martin's over 15,000 suppliers for this recognition. The RMS Elite Supplier status award was introduced in 2018 to identify Lockheed Martin's top-performing suppliers.
"This award is a confirmation of our entire team's hard work and dedication to customer satisfaction as we support LM RMS's various programs around the globe . We look forward to continuing our long-standing relationship with Lockheed Martin for the years to come.
Our consistent goal has always been 100% quality and 100% on-time delivery with all of our customers."
Kevin Dickison
President
Contact Us
To get in contact with us, simply use our web form or call 763-785-2056.
Quality precision machining services